It's OK Guys, I'm In the Game Now
By: Lakers Forward Stanislav Medvedenko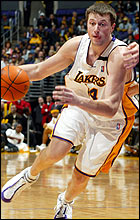 "My European brethren and I do everything except lose!"

Coach just put me in the game because Shaq is in foul trouble. This is my chance to show the world that I am a very talented player and a force to be reckoned with in the paint. We're only down by 10; I can guide these guys back to the lead. At worst, I can keep the score the same until Shaq can come back in.
Wow, it doesn't get any better than this. It's Game 6 and if we lose, we go home. It's time to show up and show Bill Walton who the real player is on this front line. I'm going to show the world.
Oh jeez, Tim Duncan is tall. He keeps grabbing all of these damn rebounds too. I'm supposed to grab these rebounds! Maybe someone didn't inform Tim that I am the best-kept secret in the NBA. Screw it, I'm just going to shut him down in front of the millions who are watching on television.
That was just one lucky dunk, no big deal. Duncan doesn't have anything on me; I played in Europe for Christ's sake. Where the hell did this loser play? Wake Forest? Was David the Gnome his point guard? This guy is so overrated.
That was a lucky offensive rebound. Along with that put-back he just tapped in. And that blocked shot was lucky too. If I had just slid over and set a pick on Tim, that wouldn't have happened. You're lucky I didn't do it, Tim. The whole world would have seen you for what you are; a fraud.
Why are you taking me out, coach? I was doing a pretty good job on that "MVP". Oh, you're taking out Horry. Good! That loser can't do anything anymore. It's time to bring in the new blood and let the young guys take on ol' Mr. "MVP".
Lucky jump shot, totally lucky. That was the flattest shot I've ever seen from the top of the key. I know it swished right in, but it was lucky. Six or seven inches to the left or right and that sucker would not have gone in.
These guys are pretty damn lucky because nobody can hit a jump shot in this 4th quarter except for me. I'm getting tired of keeping this a 20-point game; I think I'm just going to concentrate on guarding Tim Duncan.
OK, I'll admit that I might not be doing a great job on Tim Duncan but I will lead us back to a tie in this game. Jannero Pargo and I will shock the world and stick it to Phil Jackson at the same time for not playing us all year.
Oh, Pargo just shot an air ball. Well, this certainly does not look too good.
Oh wow, we lost by 28 points. It could have been a lot worse had I not shut Tim Duncan down.