Never Underestimate MY Heart of a Champion
By: Cancer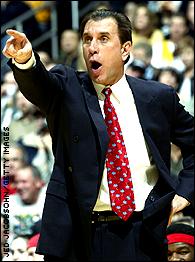 "Kermit Washington just stole my watch along with my basketball career!"

As I scour the Earth in search of the next person to shack up with for the next 6 months, I've always searched for that one smug individual that has had way too much luck in his/her life and really needs to be humbled. I watched Darryl Strawberry stumble through life successfully and I jumped into his colon and proceeded to take a fatal piss all over it. Unfortunately, he beat me somehow (but in a few years he'll be in for a very pleasant surprise). But there is one motherfucker I've had my eye on for quite some time now: Rudy Tomjanovich.
I was there when he got the coaching gig with the Houston Rockets in the early 1990's. I sat watching a television in Sammy Davis Jr.'s house after I got through with him and turned on SportsCenter. Much to my chagrin, god damn Rudy Tomjanovich was named head coach of my beloved Houston Rockets. God damnit I hate that man, why did he get the job? I paid Kermit Washington to get rid of this guy many years beforehand and now the idiot is the coach of my favorite team? This reminds me, I need to pay Mr. Washington a visit sometime in the near future.
I was also there when the jackoff won the NBA title in 1994. He rode the coattails of my own personal Jesus, Hakeem Olajuwon. Now, all of a sudden, Rudy is viewed as this great coach? Fucking shit, not on my shift asshole. I paid Vernon Maxwell to take that fucker out but he attacked a fan instead. That just goes to show you that you should never send an overrated basketball player to do a crippling disease's job!
And oh yeah, I was also there when Rudy won his second title in 1995 when he got Clyde Drexler's corpse to play for them. Watching Clyde dribble with his head pointing straight down and taking it hard to the basket unsuccessfully time and time again just made my disdain for coach Rudy T. grow even more. After Rudy's team, not Rudy, won Game 4 against the Shaq and Penny show, Rudy goes on to proclaim "Never underestimate the heart of a champion!" Well shit on you Rudy, never underestimate the pain of me in your fucking bladder.
When Steve Francis was traded to Houston, I felt like I was in utter ecstasy. I watched him play ball over at Maryland and he was amazing. Then Houston trades for him and I was so happy I thought I was going to piss abnormal cells all over myself! Then I heard that Rudy was actually going to try and make Stevie a point guard. Uh-oh, my dream is dead. Good job Rudy, your most dynamic scorer is in charge of making sure everyone else scores. Steve has made the All-Star team two years in a row now with no thanks to you. I hope you rot in hell after I'm done with you and your fucking reconstructed face you asshole. Go Rockets!