Ricky For MVP!
By: Emilio Escobar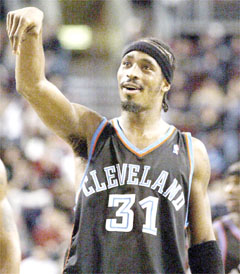 "Smoke weed every day!"

On December 9, Ricky Davis scored 45 points.
On December 13, Ricky came out shooting with 42 points while also dishing out 8 assists.
On December 20, against the best team in the east, Davis scored 42 again while also getting 8 rebounds and 7 assists.
And then on March 16, Ricky Davis had his first ever triple double, notching 28 points, 10 rebounds, and 12 assists.
Have you caught on yet?
Ricky Davis is my choice for MVP this year. Although I don't feel it's an obvious choice, it's the right choice in my mind. Davis has led the Cavs in scoring and has had to take the worst team in the NBA and lifted them to stardom. I, among the rest of the nation, was utterly appalled when Ricky was left off of the All-Star team. When I asked one GM who asked not to be named, he told me "I believe Ricky was the most surprising choice of the group you mentioned that was left out of the game. Lets look at some other supposed MVP candidates:
Paul Pierce: He is a faggot
Tracey MacGrady: Tmac is playing very well this year but he made several comments this year about his good friend Horace Grant and that is not what MVPs do I really think so.
Tim Duncan: He won it last year I think but many players think he is gay. There has never been a gay NBA MVP before and I do not think it will start now I really don't.
Nobody else is really playing like an MVP except for MacGrady and Duncan. Duncan already won so it's not fair to give it to him. MacGrady won't win it because he plays in Orlando and all they do is lynch black people there when they get home from faggot Disney Land. This is why I think that Ricky Davis will win the award this year at long last.
Think about this: An MVP should make his players better. How many teams even take Darious Miles seriously anymore? Nobody, but the Cavs have him and this is because Ricky Davis keeps him playing like a good player. Also, the Cavs have a player named Smoosh and I saw him play one time and he sucks. Ricky Davis is the best player on that team and that is why he is the MVP. Look at the past MVP's:
Tim Duncan
Karl "Male Man" Maloney
Grant Hill
Michael Jordan
Tim Duncan
Larry Bird
Ricky Davis is better than at least half of those guys and if you don't think so then you don't watch enough NBA basketball I really think so. If you don't think so then you, my friend, are a faggot.