Tracy McGrady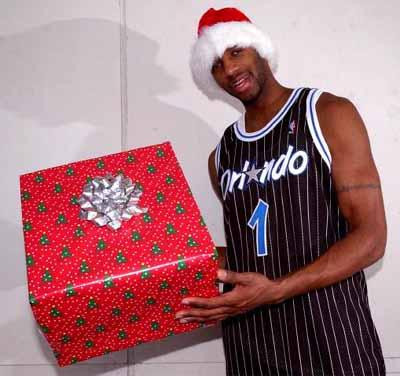 Male
24 years old
Orlando, FLORIDA
United States

About me
Well good golly, lets see here. I'm 6'8" and a robust 210lbs. I enjoy playing basketball for an ungodly amount of money and I enjoy sleeping a lot and I have a lazy eye. When there is any sort of pressure or adversity I must face I will, immediately, blame someone else for it and never accept blame on my part. I love to make ridiculous statements in newspapers and magazines such as claiming 5% of the NBA is gay even though these accusations have no merit whatsoever. I'm me :)
Who I'd like to meet
People who won't take offense when I say stupid things like, "For a guy like me it's great to be in the second round" and when I bring disappointment to the city of Orlando during the playoffs each and every year. I'd love to meet you as long as you don't expect me to pass you the ball!
Tracy's Interests
General: Sleeping, scoring points, shooting 15 3-pointers in a game, disappointment, making stupid guarantees, revolting against NBA coaches, talking shit, kicking the same basketball into the stands twice, and turning the ball over a lot.
Movies: Scarface, Teen Wolf, Above the Rim
Television: Too busy sleeping to watch TV :)
Books: I can't read because I didn't go to college =(
Heroes: Penny Hardaway, Grant Hill, Kevin Garnett, Charles Barkley, Dan Marino, and Dominique Wilkins
What Does Tracy Do For Fun?
I just like to kick it at home with my daughter and take a nap or two. Sometimes I just like to sit by the fireplace and burn money or come up with new NBA conspiracy theories. I used to hang with my boy Mike Miller until the Magic traded him away in order to "improve the team" whatever that's about. I'm just a fun-loving guy; I love to laugh. I can always make reporters smile using my cutting-edge wit and my charming attitude. I like to play playstation games and pretend I am a baseball player for the New York Yankees and they sign me for lots of money but I continue to bring down their franchise with my horrible attitude but the fans have to continue to act as though they like me because I might pout or just opt out of my contract. I know it's a bit far-fetched but I have a wonderful imagination.
Comments
Yo I'm sweet n I'm single and I be wanting to hook up wit u mami. Have u ever been wit a league leadin scorer? I think not :P so give it up grrl holla at ya boy T-Mac. Don't worry bout tha kid she taken care of >_<