Fans Mourn the Death of NBA Fundamentals
By: Emilio Escobar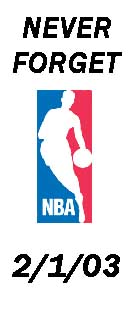 February 1, 2003. What do you remember of this day? Some say they will remember that cool breeze in the afternoon while they played pick-up hoops in the backyard. Or they are still reeling from the State of the Union address by President George W. Bush. But no, folks. The one thing people will remember most of all from this will be, and always will be, the death of basketball fundamentals in the NBA.

"I really do not know what to say" stated Boston center Tony Battie. "We held this little ceremony before the game began, in tribute to this great tragedy. Our hearts go out to George Mikan and those others who founded this great game of basketball." Others stated their views on the tragedy as well, including Frank Supovicz. "We reacted with great sadness," said Supovicz, an event planner for the NHL. "We eliminated a fair amount of the opening (to the NHL All-Star game), out of respect to the tragedy." What a tragedy, indeed.

Tony Battie during a moment of silence before the Boston-Indiana game on Saturday.
While the crowd was still silent, the loud commands to the traditionalists resonated through the half-empty arena. The national anthem was then performed without any musical accompaniment by country singer Allan Jackson. "I just saw that there was another national tragedy, and I thought to myself, 'self, our record sales haven't been doing so well. We need a new gimmick' and that's when I decided to take advantage of yet another tragedy. By the way, my new record is in the lobby."

Fans all across the country mourned at the very site of the lost art of dribbling a ball without palming it. Or even a 16-foot pull-up jump shot on a fast break instead of mowing down a defender in the paint en route to an offensive foul. A moment of silence was observed at NBA and college arenas all around the country -- Storrs, Conn., Omaha, Neb., South Bend, Ind., Louisville, Ky., Austin, Texas, and Indianapolis. Before the start of the men's game between Kentucky and host South Carolina, a prayer was said and a moment of silence was observed as a picture of former Boston Celtic Bill Sharman shooting an 18-foot jump shot was displayed..

The NBA longs for the days of Bill Sharman and his crisp jump shooting while his teammate Bob Cousy would pass the ball without an offensive foul being committed under the basket.
"Today we must remember the terrible tragedy that took place this morning," Dr. Hal Marchman, a retired Baptist minister, said during his invocation before the Rolex 24 endurance car race at Daytona International Speedway. "What I witnessed today, I will tell my grandchildren about for years to come. I am still in shock at what happened earlier today. I can remember the days without a physical foul or when a player made a backdoor cut to the basket. This is a terrible tragedy, and certainly sets both our country and our sport back at least 10 years."

Scattered debris found at the site of where NBA fundamentals were last seen.
Bob Bender, a 39-year-old fan from Columbia, Mo., said he and his wife and two sons nearly stayed home from the Colorado-Missouri men's game before deciding to attend. "We thought that maybe we should show our respect by staying home, but we all have to go on with our lives," Bender said.

NBA players have paid their respects in different ways. Rasheed Wallace has agreed to postpone his threatening of referee's lives for the day, Ruben Patterson said he will not rape anyone, and Shaquille O'Neal reportedly has said he will not mention Pepsi for the entire 24-hour period. Doug Christie, however, will still raise his arm after every insignificant basketball play he stumbles into while on the court. "I feel it is my duty to shove my sickening love upon the entire nation during this monumental tragedy" said Christie.

CBS delayed the beginning of its televised coverage of the Bob Hope Classic golf tournament in La Quinta, Calif., for about an hour. "The entire PGA Tour family grieves for today's tragic loss of the NBA and it's fundamentals," Tour commissioner Tim Finchem said in a statement. "Our thoughts and prayers are with the countless family and friends of the NBA and we are still grieving."

Bob Bender pays his respects by giving the NBA a "thumbs up" and reminds us to "never forget" the events of this historic day in NBA history.
Emilio Escobar is a contributing editor at niggaslike.us
He can be reached at [email protected]