LaBron James: The Next Harold Miner?
By:
Emilio Escobar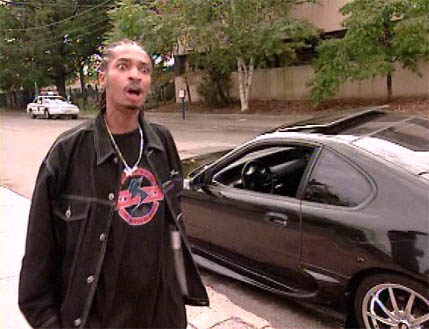 "What you talkin' 'bout Commissioner Stern?"
As the Los Angeles Lakers continue their struggles in the league, those of us "in the business" are left to ponder one thing about the potential changes in store for us all before next season: Could LaBron James be the next Harold Miner?
From his days dominating the hardwood as Southern California, to his glory years of what I like to call the "Harold Miner Era" of NBA Slam Dunk competitions, Miner never backed away from an opportunity to succeed.
In Labron's case, he certainly has the talent. But does he have the heart and determination to make it at the next level? Several dominating performances on television and an SUV-endorsement deal later, we are no closer to deciphering the enigma of a mystery that is The James. Can The Fanatical Mister J, as his friends call him, maintain the dedication in college to athletic excellence that he has shown in high school ball?
Recent NCAA statistics show that only a relatively small number of people who play college basketball ever make it to the pros, much less the NBA. LaBron James may be the most dominating power forward in this year's college crop, but that may or may not translate into the big bucks he hopes for.
Even at 240 pounds, Mr. LaBron may not have the muscle it takes to pound it on the inside like his hero David Robinson. Far gone are the times when 6'8" would be considered prime for Miken-esque domination. We are now in the age of international players, and native talent like LaBron's may be marginalized. Hopefully he'll consider a quality basketball school like Alabama or Texas Tech, rich in athletic tradition and local support that can sculpt his potential into not only an "NBA body" as Hubie Brown would say, but an NBA mind as well. Only then can LaBron reach to the sky for the sort of acrobatic ascension we once witnessed under another college star who hasn't yet stopped rising, Harold Miner.
Emilio Escobar is a contributing editor at niggaslike.us
He can be reached at [email protected]