"At Least I'm Not Grant Hill"
Featuring: The NBA All-Infirmary Team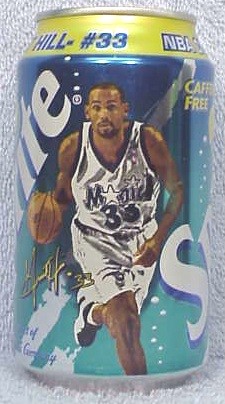 "Grant Hill Drinks Sprite .... at home on the couch!"
Robert Traylor (35 Hill Points)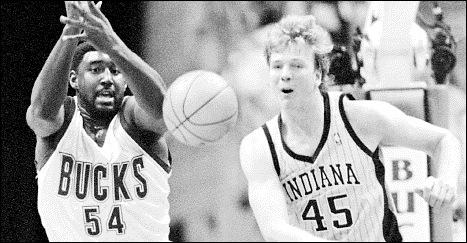 Well, when you can't beat Rik Smits to the ball you're in pretty bad shape. Mr. Traylor is truly one of the league's most ill-prepared, feeble players. Still, he can at least hobble on the court for the occasional game and take a charge or something, so he only merits a 35.
Chris Webber (50 Hill Points)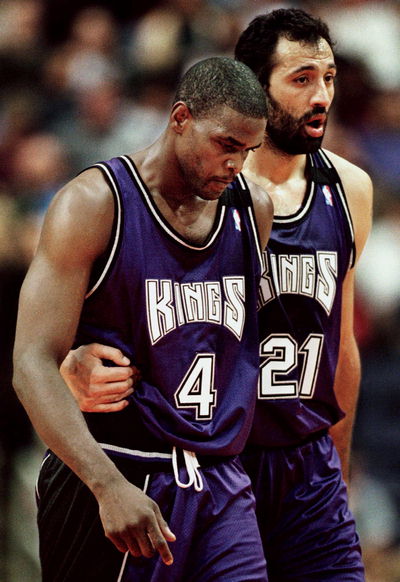 I know you were probably ready for an Alzheimer's joke based around Mr. Webber forgetting his team was out of timeouts, but that just wouldn't be funny.
Pictured instead is teammate Vlade Divac carrying Chris Webber out of the game and into the locker room for x-rays. No, he isn't particularly hurt or anything, it's just that with the playoffs fast approaching old #4 was afraid he might not get the seat on the bench with the good view.
For at least making it through the regular season intact, Webber gets away with only 50 Hill points; even if he has to lie to a grand jury to convince us otherwise.
Derrick Coleman (60 Hill Points)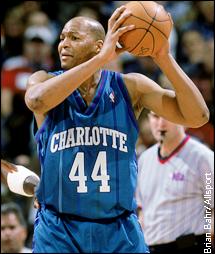 What disease could be more American than chronic obesity? Seriously though, Derrick isn't that useful even when he isn't hurt. Here's 60 Hill points and a hot dog, sit the fuck down shithead.
Marcus Camby (65 Hill Points)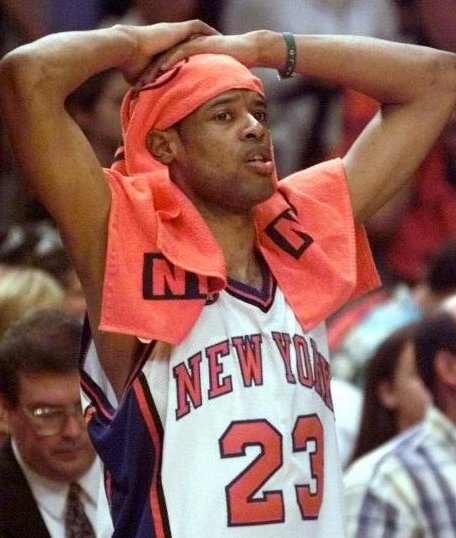 Marcus Camby gets injured on a daily basis while watching his morning cartoons and eating soggy cereal but that doesn't mean he's completely useless! He's never played more than 62 games in a season but he's already played in 60 this year. Let's go ahead and check on how many the Sprite Cyborg has played in this season. Oh, none.
Jay Williams (75 Hill Points)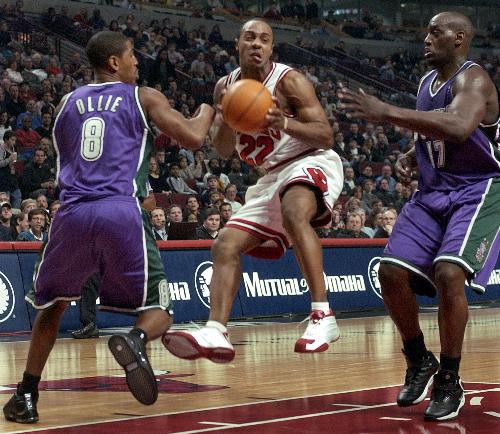 In June of 2003, rookie sensation Jay Williams of the Chicago Bulls suffered a horrific motorcycle accident, leaving him with injuries that included a crushed pelvis and catastrophically damaged left knee. And THIS is what he looked like beforehand! ZING!
Seriously though, Jay Williams was a good contributor to a shitty team. He may never walk again, but in reality there was never any hope of the Bulls winning much of anything without Jordan anyway. Compare this situation to Grant Hill's where, despite McGrady's best efforts, a second or third round playoff appearance was all but assured with his arrival, and you can see that this motorcycle accident isn't as bad as Hill's silly putty ankle. 75 Hill points and a get well soon card, buddy.
David Robinson (80 Hill Points)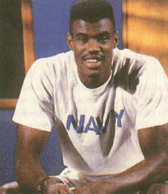 Admiral Robinson swabs the deck on the NBA shuffleboard circuit nowadays but he can still dribble a basketball and count to 10 on Sesame Street with two healthy ankles.
The Village People should make a remix of the Navy song about how you'll never be able to win a ring until you draft Tim Duncan!
Antonio McDyess (80 Hill Points)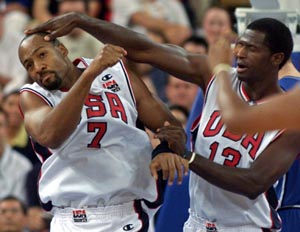 AHHHH, SHIT YOU TOUCHED HIM! NOW YOU'LL TURN INTO A WEREWOLF TOO!
Alonzo Mourning (95 Hill Points)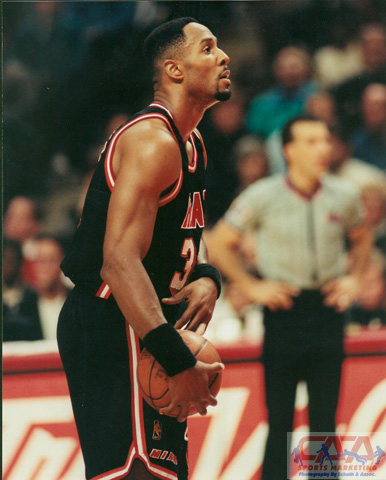 "I'm sure it's just a stomach ache ..."
Famous last words my friend. Turning into a werewolf can be a long and terrible process, and kidney malfunction is just the beginning. Blood in your urine? Looks more like wolf blood to me.
But remember this my friend, no matter how much pain you are in from either your disease or just the loss of the game you love, at least you aren't Jason Kidd's wife. Better luck next transplant.