Ask Bill Walton!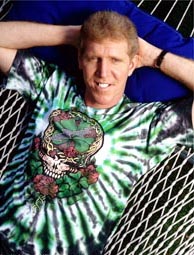 Q: Hey Bill,
Is it possible that Michael Jordan and his JLC will break Wilt's Chamberlain's scoring title... no not the buckets but bitches. I mean we all know that the god J Bone is one who loves to fornicate with many women but does he have a remote chance of catching up to the god 20 Grand? I say anything is remotely possibly, sort of like Alaa Abdelnaby making a strong run for "Comeback Player of the Year" and "MVP" of the Saskatchewan League. PREACH!!!
CHUUUCH!!!!
Infamous Dub
A: Infamous,
I spoke to Alaa Abdelnaby before the game and he told me that Michael Jordan does, in fact, have the best chance to overtake the great Wilt the Stilt as the all-time fornicator of all time. Why did Alaa believe this? Because we played one-on-one in 1991 and he defeated me in a very tight game of 21 where my foot bursted into flames and Alaa helped me up with the passion of a young boy finding his first orchard. I have very fond memories of Wilt Chamberlain and I hope to meet him someday. Oh, he's dead. Great player.
Q: Just to clear up any debate of greatest dunk ever I decided to send a pic. What do you think Bill?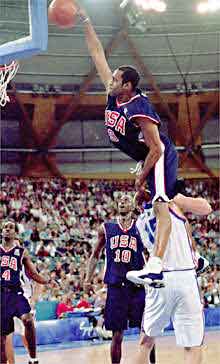 Anonymous
A: Dear Anonymous,
The greatest dunk in the history of this great game occured when the great Tom Chambers stepped on another player's back and proceeded to dunk on someone. I still get chills thinking about that dunk and how great Tom Chambers was. It was as though the Aztecs and Mayan empire had come together while 16 moons aligned and created a montage of absolute greatness.
Q: Bill,
Why does it have to take so long for you to update your page? I look forward to your wonderful insight and I enjoy your left-wing take on the world known as the National Basketball Association. Please continue to update your column but with more regularity.
Anonymous
A: Anonymous,
Thank you for taking the time to write me. Shaquille O'Neal is fighting for his life in this game. Offensive foul! Derek Fisher is, perhaps, the all-time best player on this team and I really do mean that. Well I forgot about Kobe Bryant, who may just be as good, if not better, than Michael Jordan. No, I really do think that. OK, maybe Michael was better. Would someone please tell Rick Fox that he should try working on his game over the summer and not his acting career. Throw it down Mark Madsen!
Yes, I will attempt to write my column at a more frequent rate. I have many obligations such as being a Grateful Dead groupie and an insanely jealous father.