Ask Bill Walton!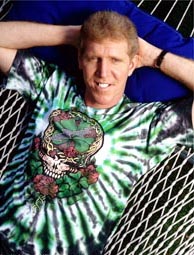 Q: Bill, I have recently broken up with my girlfriend and I have now found out that she is pregnant. I'm scared, as my parents do not know of this yet. What am I ever to do, Bill?
A: Terrible, just plain terrible. You must remember in a time like this that you have teammates in the game of life. I remind myself of this everyday, and you should too.

Q: Mr. Walton,
I have stumbled across a large sum of money and I was wondering what you would do in this situation? Would you turn it in or keep it for yourself? My conscience is tearing me apart! Thanks for you input!
A: Why might someone even think of keeping the money? Life is all about giving back to the community. Remember that I played my best basketball for the Portland Trail Blazers in my entire life.

Q: Who is that black man that talks about the game that sits next to you? I do not like him at all.
A: He is my good friend Steve "Snapper" Jones. He once played for the daunting Boston Celtics back when black people were inferior to the human race, he was able to overcome this and play the best basketball of his life for the Boston Celtics. I, myself, know what it is like to play the best basketball of one's life for a team, for I did it with the Portland Trail Blazers. Are you aware that the fans adopted that team? It was a wonderful feeling, something I have yet to match to this day!
Well, that's all the time I have for now. Keep sending me those questions!